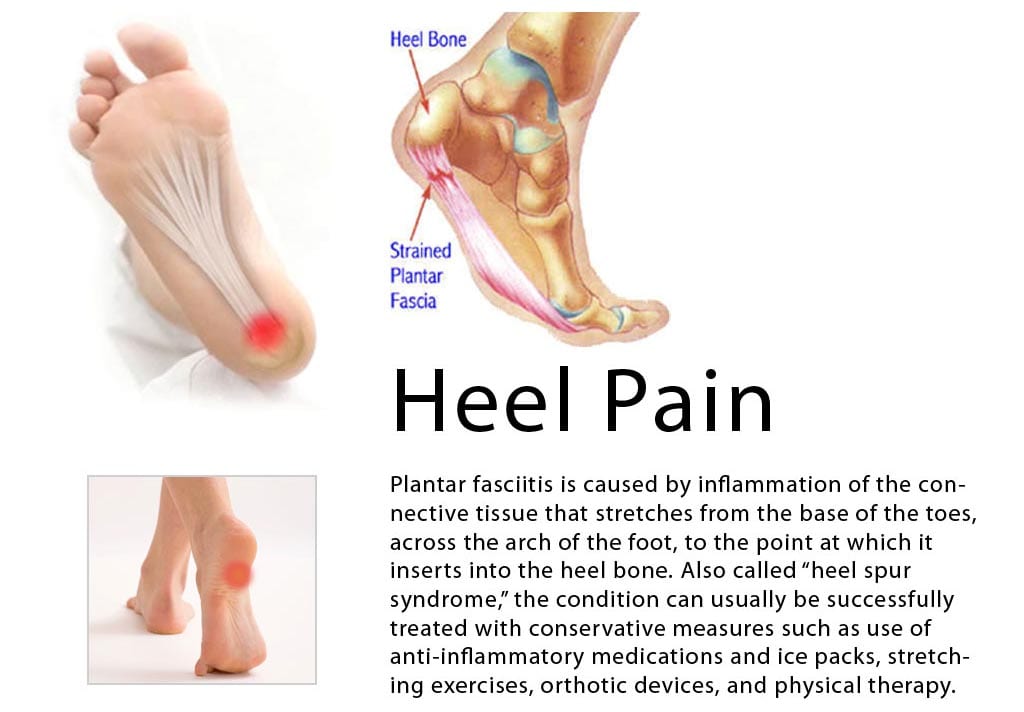 Overview
Plantar fasciitis is the most common cause of heel pain. It can be caused by inadequate or inappropriate footwear, weight gain, or a particular exercise or activity. It is common for plantar fasciitis symptoms to affect only one foot at a time. Treatment focuses on reducing pain and inflammation. Chronic (long-term) plantar fasciitis can lead to a build-up of bone (a "spur") at the point where the plantar fascia connects to the heel bone. For this reason plantar fasciitis is sometimes referred to as "heel spur syndrome".
Causes
Plantar fasciitis is a painful disorder in the lower part of your foot usually around the heel. That pain usually hurts as you get up in the morning when you try to stand on your feet, or after any periods of inactivity. It is a disorder of a tough and strong band that connects the heel bone to the toes. Plantar Fasciitis is caused by injuring that tough band on the bottom of the foot. The following may be the causes of plantar fasciitis. Tight calf muscles or tight Achilles tendon produces repetitive over-stretching of the plantar fascia. Gait and balance Problem may be a dominant cause of this disorder. Many people have a special style of walking, with something unique that causes some kind of imbalance in their body. It might be something like locked knees, feet that turn-out, a weak abdomen etc. This imbalance may place some pressure on the fascia, which eventually causes plantar fasciitis. Weak foot muscles don't give enough support to the plantar fascia. The small muscles in the foot give the foot its shape by keeping the bones in place and by expanding and contracting to make a movement. Weak foot muscles will allow greater stress on the fascia. Foot anatomical problems such as flat feet or high arches can make the fascia ligament work or stretch abnormally. Flattening of the fat pad at the sole of the feet under the heels is a Degeneration process that is caused by poor footwear or by age. Shoes that have no proper heel cup can flatten that fat pad quite quickly and cause this disorder. Walking in shoes which do not have good arch support is considered to be a cause of plantar fasciitis. Wearing inadequate or worn out shoes may place more stress on the fascia ligament. If you wear shoes that don't fit you by size or width, you may put your feet under excessive stress. Overweight Men and women are more vulnerable to developing the condition because of the excess weight on the foot. Pregnant women are at risk due to gaining weight through pregnancy and due to the pregnancy hormones that make ligaments loosen and relax. Sudden increase of activity like starting to run long distance or complete change of daily activity can cause heel pain and this disorder. Practice of repetitive athletic activities, like long distance running, playing a ball game, dancing or jumping, is a common cause for the disorder. Actually it is considered as one of the most common running injuries. Spending long periods of time on your feet everyday can cause plantar fasciitis. Working on your feet a few hours a day evey day may be the reason for your heel pain.
Symptoms
The symptoms of plantar fasciitis are pain on the bottom of the heel, pain in the arch of the foot, pain that is usually worse upon arising, pain that increases over a period of months. People with plantar fasciitis often describe the pain as worse when they get up in the morning or after they've been sitting for long periods of time. After a few minutes of walking the pain decreases, because walking stretches the fascia. For some people the pain subsides but returns after spending long periods of time on their feet.
Diagnosis
If you see a doctor for heel pain, he or she will first ask questions about where you feel the pain. If plantar fasciitis is suspected, the doctor will ask about what activities you've been doing that might be putting you at risk. The doctor will also examine your foot by pressing on it or asking you to flex it to see if that makes the pain worse. If something else might be causing the pain, like a heel spur or a bone fracture, the doctor may order an X-ray to take a look at the bones of your feet. In rare cases, if heel pain doesn't respond to regular treatments, the doctor also might order an MRI scan of your foot. The good news about plantar fasciitis is that it usually goes away after a few months if you do a few simple things like stretching exercises and cutting back on activities that might have caused the problem. Taking over-the-counter medicines can help with pain. It's rare that people need surgery for plantar fasciitis. Doctors only do surgery as a last resort if nothing else eases the pain.
Non Surgical Treatment
Many cases of plantar fasciitis can be treated with simple, conservative measures. These include ice packs, stretching exercises, anti-inflammatory medications, orthotic devices (custom molded orthotics), and physical therapy. It's important to consult your doctor before you take any medications to treat this condition. In chronic or persistent cases, one of three techniques may be used to treat plantar fasciitis. Extracorporeal Shock Wave Treatment (ESWT). TOPAZ treatment. Platelet Rich P
lasma therapy.
Surgical Treatment
In cases that do not respond to any conservative treatment, surgical release of the plantar fascia may be considered. Plantar fasciotomy may be performed using open, endoscopic or radiofrequency lesioning techniques. Overall, the success rate of surgical release is 70 to 90 percent in patients with plantar fasciitis. Potential risk factors include flattening of the longitudinal arch and heel hypoesthesia as well as the potential complications associated with rupture of the plantar fascia and complications related to anesthesia.
Stretching Exercises
Stretching your plantar fasciitis is something you can do at home to relieve pain and speed healing. Ice massage performed three to four times per day in 15 to 20 minute intervals is also something you can do to reduce inflammation and pain. Placing arch supports in your shoes absorbs shock and takes pressure off the plantar fascia.